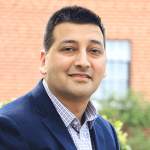 Ash Malhotra
Licensed in NC
A little about me
Since moving to North Carolina in 2014, I fell in love with the beautiful landscapes, scenery, and diversity of the residents of the state we call home. Before moving to North Carolina I graduated with my Bachelors Degree in Business and Marketing. I'm passionate about helping people which is one of the reasons I decided to join this industry.
Since the pandemic, many families have been faced with making their home a work space as well. Many of us are looking for the perfect home to balance our work and home life and I would be honored to help you achieve this goal.
I am committed to deliver a quality experience as we work together to make your dreams a reality. My core values are:
Respect & Trust: I am committed to building a respectful and trusting relationship with you and will treat you with dignity and respect at all times.

Integrity: I conduct myself with the highest ethical standards, demonstrating honesty and fairness in every decision we make.

Solution-Based: I am resourceful, always seeking to discover solutions and provide advice, guidance, and council to ensure your goals are achieved.
When I'm not assisting clients, I enjoy traveling, spending time with my wife, son, family and friends, as well as learning and researching new things. I began pursuing getting my pilot license and am excited about working towards achieving this goal. Our beautiful state looks amazing from the sky!